In this post I'll share with you how to generate leads using Attraction Marketing, so you can make more sales and make more money in your online business.
What Is Attraction Marketing?
Attraction Marketing is where you ATTRACT, like a magnet, interested prospects and customers. That way you won't have to go pitching to, chasing or cold calling people. Let me give you a quick example.
On a daily basis on Facebook I have random people add me and once I accept their friend request they send me a private message telling me about their company, products, how great their company and products are, or even how fast I can get rich in their company. They do this without asking about me or wanting to get to know me. They just want to sell their "things" to me – period. This is the opposite of Attraction Marketing and if this is what you're doing then it's the fastest way to go broke, so keep reading because you'll want to learn how Attraction Marketing works.
How Does Attraction Marketing Work?
Attraction Marketing starts with you defining who your target market is. Once you've defined your target market, you'll want to figure out what problems your target market has and give them the solution to their problems. The way you help them solve their problems is by adding value; and you can do that in blog form, video format or maybe make an eCourse you can give away – there's literally hundreds of ways you can create content that adds value and solve's your target market's problems. And when you start giving away valuable content that helps people get results, they will LOVE YOU and TRUST YOU.
Why Would I Give Away Free Content?
I knew you'd probably ask this question. Here's the thing…
As you give away free content, you're going to be collecting people's email addresses, which will help you build a list. Now, it's important to take note here that YOUR LIST IS YOUR BUSINESS. You're business isn't the company you partner with or the products you sell, it's your list. The money is IN YOUR LIST.
I'm going to share more about why a list is your most valuable asset in a future article, so be sure to subscribe below this post to stay updated.
Once I Have A List, What's Next?
Once you start building a list, the next step is to continue building a relationship with those prospects (your list) by adding even more value and giving them more solutions to their problems. If you do this consistently, they'll soon see that you actually do have something of value to them and they're going to come to you asking YOU what it is that you do. They're going to come ready to BUY FROM YOU with their credit card in hand because they know you've got the solution to their problem.
Real Life Examples of Attraction Marketing
Here's a Facebook post I shared about what happened yesterday: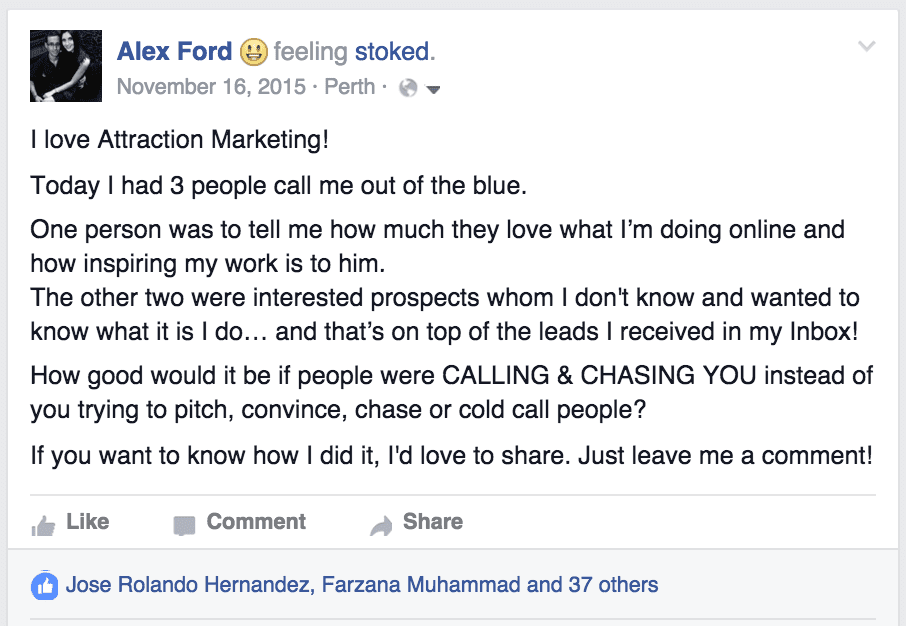 Here's a message from someone who contacted me on Facebook this morning (I only met her today):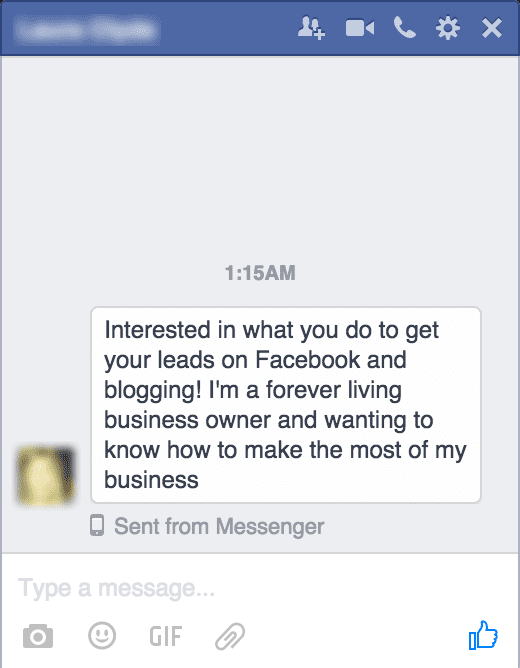 And that's Attraction Marketing. It's completely different to pitching to, chasing, or cold calling people. For me, I love it because people COME TO ME already interested in what I have to offer and that's what you can have in your business as well.
Did you get value? Is so, I would greatly appreciate it if you commented below and shared on Facebook.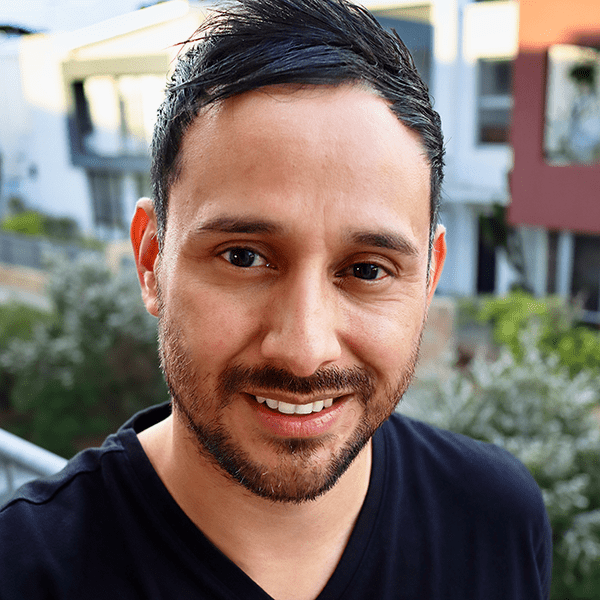 Alex Ford
Digital Marketing Trainer
Email: [email protected]
Have Questions? – Ask me on Messenger
P.S. Do You Have A Proven Step-By-Step Blueprint For Your Online Home Business Success? If Not, Check This Out (Unless You've Already Got Too Many Leads) – Click Here For Instant Access
If you enjoyed this post on Attraction Marketing, feel free to share.