If you're looking for a thorough Legendary Marketer review (with no stone unturned)… you've definitely found yourself in the right place.
My aim is to give you all the information you need in order to make a fully educated decision on whether or not to start your own online business and pursue an online marketing education with this company. I'll share my direct experience in this Legendary Marketer review.
So let's dive right in…
IMPORTANT: This review will only make sense if you've seen the 20-min Legendary Marketer video. Would you like to watch it first?
First of All… What Is Legendary Marketer?
Legendary Marketer is essentially an online marketing education company, with a catalog of products that revolve around building your own online business – existing or from scratch.

Or to be fair, they help anyone build ANY sort of business, although they primarily focus on online businesses. This includes…
● Affiliate Marketing (My favorite!)
● Digital Products
● Coaching & Consulting
● Network Marketing
● Events & Masterminds
● Real Estate
● Chiropractic
● Or ANY other you can think of!
In other words, any business that needs leads, customers and sales to operate successfully!
Is Legendary Marketer a Business Opportunity?
Not really, but yes at the same time. (Which is a good thing if you're looking for an online business!)
The truth is that as of 2018 and prior, Legendary Marketer was positioned as a straight-out business opportunity "system".
However in 2019 that all changed. It is no longer positioned as a business opportunity. Now the model is to simply provide pure value for anyone wanting to start and grow their own online business. (With the ability to earn using their affiliate marketing program, by application only.)
If you want to build an online business, Legendary Marketer leads you into it with a very cost-effective 15-Day Online Business Challenge that teaches beginners the foundations of online business and marketing, while guiding you in creating a business plan for success.
Once you've gone through the Legendary Marketer sign up process, you'll be able to see firsthand the value, education, leadership, and community the company offers so that you can make the decision whether to continue or not. Therefore their goal has shifted from trying to pull you in or "recruit" you to solely promote Legendary Marketer…
… But rather to educate YOU on online business and marketing as a whole, and help you develop a lifelong skillset that you can use in ANY business in the future, and will pay you for years to come.
Of course, you can still promote the company's products as a Legendary Marketer affiliate if you are approved for their affiliate program, and be handsomely rewarded with high ticket commissions, which many members, including me, choose to do. Or you can go on to promote your own business (or a combination of the two!)
What Are My Results So Far with Legendary Marketer?
First off, let me just say that I make NO claims in this Legendary Marketer review about how much money anybody can earn in their business, or with the optional Legendary Marketer affiliate program. Legally, it's not allowed. And truthfully, many people don't make ANY money at all… because they don't take any action at all.
It all depends on YOU, your drive, your commitment, your experience, and basically how bad you want to create success in your life.
I can only tell you my experience with Legendary Marketer so far. Here's how it broke down for me…
In my first 3 months I earned just shy of $8,500 USD in affiliate commissions. Not bad for 3 months right? But remember, I've had previous online marketing experience. So while it's a good amount, don't worry if you don't do the same.
The education that you'll receive will serve you forever!
And one day, sooner or later, if you take action on what you learn, you'll be able to make money on demand, like I do now.
That being said, in just 7 months I added an extra $41,500 USD to my business.
● $26,500 in direct commissions from Legendary Marketer.
● $15,000 from a new coaching program that the Legendary Marketer products helped me to launch.
Will you earn $40K in 7 months? I have no idea. AGAIN, this by no means is an income claim! (See earnings disclaimer here.) I don't know how disciplined you are, how bad you want change, or where you're starting at now.
However, what I can say is that my results reveal what's possible. Whether it takes you 6 months, a year, or 3 years. This is the education you need to achieve the freedom you're after. So just stick to it!
And, as you'll see, an affiliate program like this one converts like wildfire, as a LOT of the heavy lifting has been done for you! (No tech skills required, and even beginners are having success.)
My Story and Experience…
Since you're reading this Legendary Marketer review, let me quickly tell you a bit about myself.
In 2011, I started my first online business in the network marketing industry. This was after being an office worker in a dead-end job for the last 9 years, with a boss that I found myself arguing with on almost a daily basis… and during a pretty dark period of soul-crushing debt and self-doubt in my life.
To be honest, when I was first introduced to the online business industry, I didn't even know a person could make money online.
While I did have success in that network marketing company, which by the way was in the personal development industry, it got to a point where I just wasn't satisfied anymore. The reason? I simply wasn't happy with the way they were telling me to run "MY" business.
They kept telling me to follow a very cookie-cutter approach, copy/paste way of posting "work from home" ads, and spending hours on the phone daily with mostly uninterested prospects. It felt like I was repelling more people than I was attracting. Which I now know was the case.
My run with that company lasted for 7.5 years.
The thing was… After a few years into that company, I decided to educate myself on how to actually be an effective online marketer from the top leaders in the industry, not the leaders in a pretty much unheard of company.
Because of that, I no longer felt comfortable in promoting a company that wasn't going to teach the members I referred simple, yet effective and up-to-date online marketing skills.
That's when I decided to make the change to get started with Legendary Marketer.
David Sharpe's outlook on giving value upfront and actually helping people – not just "taking" their money – was very compelling to me. He was teaching the foundational 'what's working now' marketing skills that people need to know.
So I got started toward the end of 2018 and really fell in love with the place. It all made complete sense!
Watch Below As I Go Into Even More Detail About My Story!…
(Legendary Marketer Review)
So, How Does Legendary Marketer Work?
If you've looked at Legendary Marketer in the past, you may have gone through something called an "online sales funnel".
A funnel is a sales and marketing process where you are constantly funneling new leads into your business, in order to convert them into prospects and customers. A sales funnel is often represented as an upside down triangle.
In layman terms, it's a way to generate a customer by giving value upfront, and taking someone from curious and wanting to know more at the top of the funnel… and leading them through a process so they decide to get started towards the bottom of it.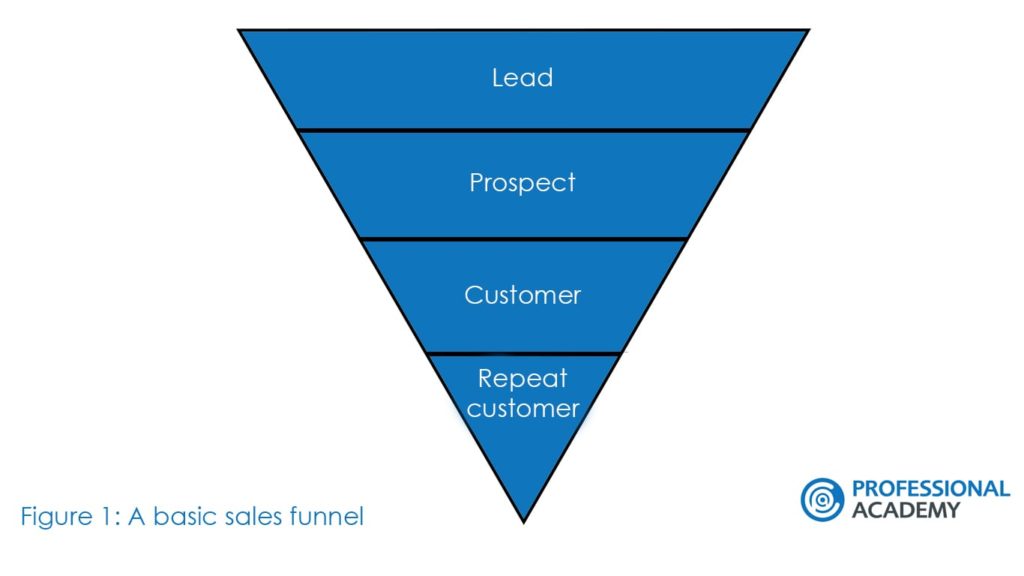 With any effective online marketing strategy, the goal is to lead with pure value to develop a relationship with a potential prospect, while eliminating confusion and overwhelm. Legendary Marketer uses high conversion funnels that do exactly that. (Which is exactly why they're high converting!)
And here's the cool part…
In my previous business, I was spending between 3 to 6 hours a day on the phone… talking to prospects, doing "3-way calls", and trying to convince people how great the company was. So I was averaging between 15 to 30 hours per week on the phone.
Sound familiar? (If you've ever been in network marketing?)
With Legendary Marketer, you don't even have to be on the phone at all if you don't want to.
Instead, you can just place simple ads online, and call ONLY the people who are interested in your business. (IF you want!)
Because they've actually got a professional phone team who are getting on the calls FOR YOU every single day… and closing your leads into your business!
It's a 95% automated business once you've got the ball rolling! Which means you get TONS of time freedom to hang with your family, or do the things that you actually want to do in life!
Wait Alex… What Happens If I Need Help with My Business?
One of the greatest parts about Legendary Marketer is that it's extremely high-touch. Meaning there are a ton of business advisors and coaches that you can get in touch with very easily to help you with any questions you have. They want you to succeed and their job is to do their best to help you make that happen. (YOUR success is the company's success!)
Very different to the network marketing model, where you'll spend a ton of money to get started, and then you're sort of just left on your own to figure it all out. (Yep, I saw that a lot in the previous company I was with.)
Rather Watch? I Break Down How Legendary Marketer Works in the Video Below…
(Legendary Marketer Review)
HOW and WHY the Legendary Marketer Funnels Work…
Currently with Legendary Marketer, there are 4 funnels that are highly tested and proven to convert!
These funnels make Legendary Marketer extremely UNcomplicated for beginners. So if you're worried about understanding the technical stuff or the marketing know-how, you can ease that worry right now.
Just as importantly, if you're worried about your future prospects understanding all this…this yet again makes YOUR job as an affiliate very simple.
As you go through the Legendary Marketer 15-Day Online Business Challenge at the beginning of the funnel (more about that in a minute), the goal is simply to give you massive value, and to help you see if Legendary Marketer is a fit for you, or not.
Once you've gone through the challenge, you can then be approved to become a Legendary Marketer affiliate. And then you'll get your affiliate marketing links, with done-for-you funnels all set up and ready for you to promote. Which means…
● NO creating websites
● NO creating videos
● NO writing emails and follow up series'
● NO techy know-how
● etc.
But what if you WANT to get a little more advanced with your marketing? That's great because…
ALL the Training You Need Is Available Right in the Back Office…
Everything is carefully laid out for you with step-by-step training.
All through easy to follow, paint-by-numbers video trainings. This way you complete each step, implement, and then keep moving forward consistently with your business.
However, it's not mandatory to go deeper and become a "guru" if you don't want to.
In the beginning, you can just use your Legendary Marketer affiliate links and use all the automated marketing the company provides. You could literally start earning a full-time income (if you work at it) without ever going beyond the done-for-you automated stuff.
So don't worry so much about the HOW-TO. However, if you want to start digging in deeper once you get your feet wet… all the training you need is right there at your fingertips!
I Explain Everything in the Video Clip Below…
(Legendary Marketer Review)
What Happens Once You Get Started In Legendary Marketer?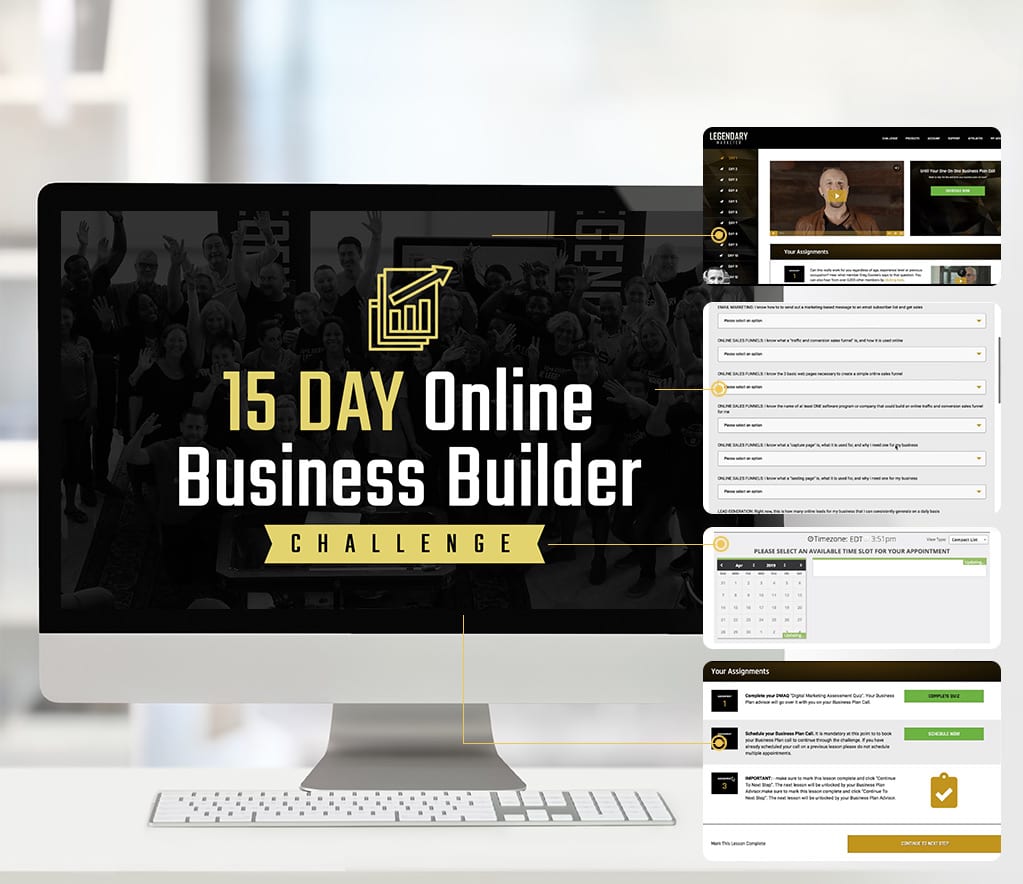 So let's say you're ready to get started with Legendary Marketer today. How's it going to look for YOU?
As mentioned above, the very first thing you'll do is go through the 15-Day Online Business Challenge. All 15 days are mapped out for you, and you'll be able to follow along, knock out the assignments, and each consecutive day the next assignment is unlocked for you.
Chances are you'll learn more about online business and marketing in these 15 days than 99% of the entire internet. (Even if you've already got some experience!)
During this time you'll have the ability to schedule a free business plan call with your assigned advisor, so that they can help walk you through the process of getting started and seeing results in your business. (They're super helpful & friendly, and they've supported everyone I've referred to Legendary Marketer!)
One great thing is that as you complete the 15-Day Challenge, you'll be able to go through some very critical personal development trainings.
Legendary Marketer is huge on personal development, and that's because it's such a key factor in your success. If you don't get your mindset right, you won't get the results you're after. Period!
"20% of your success is the mechanics, the other 80% is your mindset." ~ TONY ROBBINS!
The entire way through, David Sharpe keeps everything super simple for you. So you'll be able to grasp what's going on no matter where your knowledge level is at today.
Plus, this 15-days challenge will give you an idea of whether Legendary Marketer is a fit for YOU!
Now Let's Talk About the Legendary Marketer Products…
So the bottomline is that the reason Legendary Marketer exists is to turn YOU into a professional online marketer and beyond… even if you're just starting out and have no clue about marketing.
For this reason there are some extremely powerful (and life-changing) products available for you!
The best way for me to get across the power of the Legendary Marketer products, is to simply show you everything you have available to you inside the back-office, in a short Legendary Marketer review video I did on it.
It's the best way to show you, as the vast amount of products could be a blog post all in itself. So…
Watch Below As I Give You a Sneak Peak Into the Back-Office Tour of the Legendary Marketer Products!
(Legendary Marketer Review)
The Legendary Marketer Compensation Plan…
So again, while Legendary Marketer is not positioned as a business opportunity, there is some good money to earn for those who love the value they get, and want to share it with their prospects.
This Legendary Marketer review post is more about simply showing you what's inside the amazing training in the company.
However, if you're interested in seeing the kind of income that's possible by promoting Legendary Marketer… you'll want to watch the video below as I explain everything!
Watch Below As I Briefly Go Over the Legendary Marketer Compensation Plan…
(Legendary Marketer Review)
So Let's Recap What I Love About Legendary Marketer…
There are NO Restrictions…
Right off the bat, Legendary Marketer lays the foundation for YOU to begin promoting other products and services, and earn money for your online marketing journey.
In other words, YES, you can earn as an affiliate with the Legendary Marketer compensation plan, but you can also use that education to promote anything else you want. Including if you have your own business that you want to get leads for.
● Affiliate Marketers
● Infopreneurs
● Coaches
● Network Marketers
● Real Estate
● Chiropractors
● Or even a "brick and mortar" business
ALL the training you need is here!
And a big plus is that unlike what I ran into in my last business, you won't run into compliance issues for promoting other products and services. Legendary Marketer doesn't care what you market, they just want to see you successful in your marketing. And they even encourage you to have multiple income streams!
Even Beginners Can Start Making Money Quickly from the Education Provided…
Of course, I can't guarantee how much money YOU will make, but the potential is there for you to do quite well. It all depends on your desire, drive, and willingness to follow directions.
But as I showed you, I earned some pretty good money in my first 7 months alone!
It's up to you how fast you want to go, but commitment and consistency is the key.
And remember, they've got a team of people there to help YOU.
You Don't Have to Be On The Phone! (Even though I do!)
This is not a network marketing company where you're dialling for dollars, trying to show people "the plan", and even explaining to people how to create a successful business. The professionals at Legendary Marketer do that for you.
And they're damn good at it!
In other words, you don't have to be on the phone AT ALL if you don't want to. I do, but that's my personal preference, and it's only a couple hours per week on average.
And the great thing is that I now ONLY call the people who have already gotten started. So once I'm on the phone, I'm just creating a connection and building a relationship. Not selling them ANYTHING!
Again, in comparison, in my last business I was spending up to 30 hours per week speaking with over 100 people on the phone, where 99% of them weren't interested at all. It was rejection after rejection.
Now don't get me wrong, I still did the work. And it produced me income.
But let me ask you this… Would you rather make 100+ phone calls per week to hopefully make $1000 per week? Or 3 to 5 calls per week… where THEY contact YOU… to make $1000 to $2000+ per week? (AND not have to try to sell them anything?)
So has this Legendary Marketer review got you excited about the potential this online business could have on your life? (As I was excited when I first heard about it?)…
Watch the Video Below Now to See How You Can Get Two BONUSES ($3,494 Value) if You Want to Get Started with Me TODAY!
(Legendary Marketer Review)
Click HERE for the Legendary Marketer sign up page and to Join with ME and Get Your $3,494 Bonuses! (and TONS of continued support!)
It's a measly $7 bucks to get started! (And you get a 30-day money-back guarantee.)
Just remember…
To claim your Legendary Marketer bonuses from me, email me at [email protected] or message me on Messenger once you've got started. Once I confirm that you signed up under me, I'll email you back instant access to your bonuses.
WARNING: If you don't contact me, you won't get your bonuses. Reason being is I'm busy and get so many Legendary Marketer sign-ups that it's hard to keep track of who got started through this review.
And finally, in case you're wondering…
What's David Sharpe All About, and WHY Does He Care So Much?
One thing that drew me to Legendary Marketer is David Sharpe's sincerity, and how he feels passionate about helping others and seeing people succeed as I do!
It's no wonder that in 8 years, David has done over $200-million in sales online, trained over 300,000 students worldwide and has created over 12 millionaire students. Forbes quoted him as "one of the masterminds of this industry."
Having personally worked with David, creating a couple of courses together, and training thousand of students in his company, Dave is of upmost integrity and I highly recommend his 15-Day Challenge for beginners.
Watch the Video Below to See What I Mean as Dave Talks About How Our System In Society Is Broken and What You Can Do About It Starting Today!
Click here to watch the FREE training that Dave talks about in this video.
Or…
Ready to Get Started on The Journey to YOUR Dream Life? Click the Button Below Now to Sign Up Now…

Got value from this Legendary Marketer review post? Then I'd LOVE for you to comment below and share on Facebook… Research has shown that as you share this blog post & comment below, the universe will bring amazing things to your life 😉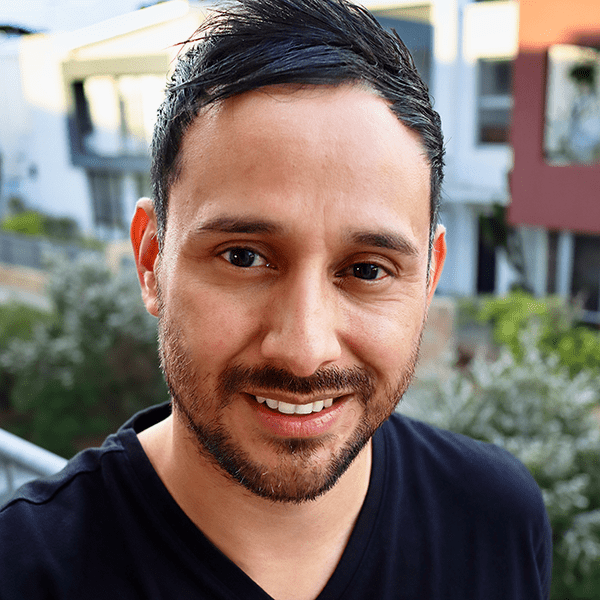 Alex Ford
Digital Marketing Trainer
Email: [email protected]
Have Questions? – Ask me on Messenger
P.S. Want to Start an Online Business? And See How Beginners Around The World Are Finally Making Real Money Online? – If So, Check Out This Video
If you enjoyed this Legendary Marketer Review, feel free to share.