Thanks to the internet, there are literally tons of opportunities to start a profitable online business… and affiliate marketing for beginners is by far the fastest and easiest way to start making money online.
With affiliate marketing, you can tap into thousands of existing products that people are already looking to buy.
You only need to know which are the hottest selling ones right now, and have a simple, proven system to get potential buyers in front of those products.
The best part?…
There's no long commutes or office politics. You don't have to recruit anyone or even talk to people on the phone! And you don't have to spend a dime on ads (unless paid ads is your thing, of course!)
But before you sign up for an affiliate program, or any other opportunity…
There's some important things you need to know to choose the right program.
Especially if you want to potentially make that coveted $10,000 per month within a few short months, not years!
And without losing thousands of dollars, getting overwhelmed & frustrated, or being left on your own to figure it all out.
Let's begin…
What Is Affiliate Marketing?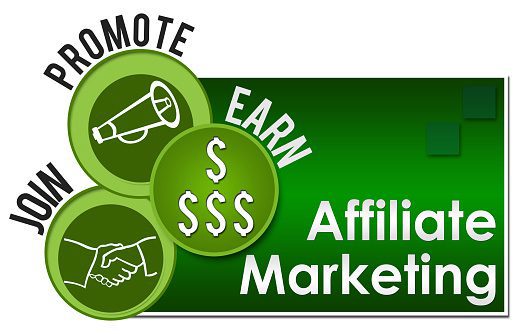 Affiliate marketing means you simply promote other people's (or companies) products, and when a sale is made… you earn a commission.
According to Statistica, spending on affiliate marketing products will hit $8.2 billion in the U.S. alone in 2022.
Which means there's a large pie for YOU to get a piece of!
So how does it work?
You join a company, you promote their products, and when someone buys, you earn. It's as straightforward as that.
In the traditional sense, it's like earning a referral fee every time a friend buys from a company you referred them to.
There's no complex triple backflip compensation plans, profit splits, monthly qualifications, or pass up sales.
The company pays YOU into your bank account from the sales made from your marketing efforts.
Why Choose Affiliate Marketing
1) Nothing beats affiliate marketing for beginners when it comes to the speed and ease of getting a business off the ground…
And it's the fastest way to start generating real financial results.
Why?
Well, because you don't need to spend months (or years), or thousands of dollars creating your own products.
You just tap into existing products that people are already looking to buy, and you can start promoting them today as an affiliate.
An affiliate is someone who advertises a company's product and sends the prospective client to a website where the purchase happens. The affiliate then earns a percentage of the revenue made with the good or service.

– E-goi.com
2) Nothing beats affiliate marketing for beginners because… there's absolute minimal risk…
You just need a couple of little-to-no-cost tools that can actually help automate most of your marketing if you use a few key strategies.
And the best part…
You can start promoting with FREE marketing strategies. (My favorite!)
Or test as little as $5 per day in paid ads to start generating traffic immediately.
Website traffic refers to web users [people] who visit a website.

– Wikipedia
You won't spend months putting a team together, writing sales materials, getting credit card merchant accounts, or hiring staff.
You can literally choose one of the 25,000+ products on the internet and start making commissions (aka money) instantly.

3) Here's where it starts getting insanely profitable…
With the right affiliate program, you can make 40-80% commissions, which can result in thousands of dollars just for referring new customers.
And when someone buys, what happens beyond the payment confirmation page is not your responsibility, but the company's.
So there's…
❌ NO products to create
❌ NO customer support hassles
❌ NO worrying about fulfilling products
❌ NO team members to train or support
❌ NO employees to worry about paying
A great company will do ALL of that for you, while you only focus on ONE simple task…
THE MARKETING.
It's every entrepreneur's dream business!
But not all affiliate marketing is created equal…
There's one important distinction you need to know that can make the difference between earning a few dollars per month, or a $10,000+ per month income…
Low Ticket vs High Ticket Affiliate Marketing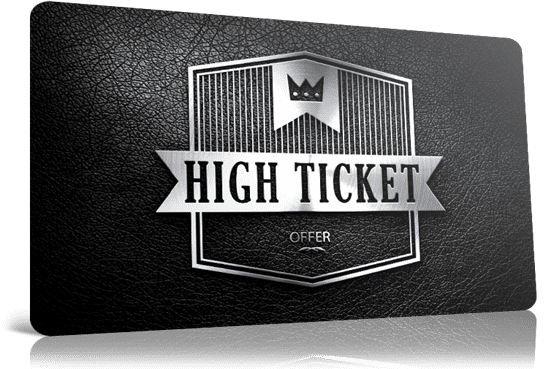 This is probably one of the biggest mistakes I see people make…
They join an affiliate program, they start promoting a low cost (aka low ticket) product, and then only make a $50 commission per product they sell.
They spend months (or years) doing this… and never make any significant income.
Simply put, they waste a ton of time and energy, and leave a ton of money on the table.
You see, there's a difference between low ticket and high ticket products.
High Ticket just means products that are higher in value, therefore higher in price. And that means higher in commissions for YOU.
If you were making $50 commission per product sale, how many would you have to sell to make $10,000 per month?
200 sales!
What if you were making a $1000 commission?
10 sales.
And a $5000 commission?
2 sales!
And from my experience, making two $5000 commissions is a lot less effort than trying to make 200 sales with $50 commissions.
Now of course, the product has to be worth its value. You don't want to be selling products that are inflated in price, just so they can pay out higher commissions.
So you'll want to make sure that what you're promoting is not only worth your referring customer's investment, but it even over-delivers! (Don't worry, they're out there!)
When you find a great product that pays out anywhere between $500 to $5000 or more, you'll quickly see how much faster you'll achieve your income goals.
Bottomline, high-ticket offers are a much better option to look out for if you want to make more money faster, without wasting a ton of time and effort like so many others are doing now!
Another thing to look out for is…
A Low-Cost Introductory Front End Product
It's important to find a product or opportunity that starts with a low-cost introductory front end product.
This helps you get more interested people through the front door, and then later, once they see the value, there will be much more trust built when a high ticket product is presented on the "back end".
Which means your prospects will be much more likely to buy.
Why? Here's a real life example…
I used to promote a network marketing company (very different to affiliate marketing) whose initial, front-end products were either $2300 and $6300, rounded.
But because the upfront cost was so high, people would often ask me "What if I buy the product and then I don't even like it?"
Unfortunately, it was one of those "too bad" kinda things.
And because of the high upfront cost, most people would take 6 to 9 months from the initial point of contact to pull the trigger.
That's a very long sales cycle, and it can be quite frustrating.
A sales cycle refers to the series of events that takes place, and time taken, from the moment a salesperson [or marketer] first engages with a prospect up until the moment when the sale is made.

– Tallyfy.com
So by having a low-cost introductory product of say $1, $7, or $30, there's absolutely no risk for anyone to get started.
It allows them to see for themselves what the company, products, and community is all about.
As they go through the introductory course, they'll see the value the company has to offer, they'll trust the company, and based on their personal EXPERIENCE…
…they'll be ready to purchase a high ticket product much faster (within days, not months.)
It's a much better experience for them, than trying to sell high-ticket from the get-go…without them having any experience whatsoever with the company's products.
So my recommendation is to promote an affiliate program with a low-cost, low-risk introductory offer of $1, $7 or $30… and a "back end" high ticket offer of $1000-$5000 or more.
How Does Affiliate Marketing Work?
Creating your own products is a pretty technical thing to do.
However, becoming an affiliate and promoting other people's existing products… now that's super simple to do!
Here's how it works…
First, you'll join an affiliate program where they'll give you a personalized link to YOU.
This link tracks every website visit, lead, and sale that happens from your marketing efforts.
Don't worry, you don't have to do any of the techy stuff. The company handles all of that for you!
The link will usually look something like this:
When someone clicks that link, a cookie is stored on their computer, phone or tablet.
An affiliate cookie does two things:
It lets the merchant know who to award the commission to (ie. YOU)
It normally holds an expiry date, so you can get paid even if that customer decides to purchase months or even years down the road! (depending on the company's policies)
Here's what that looks like in real life:
Imagine that Jenny watches your YouTube video about the best video cameras.
She clicks on your affiliate link, which leads her to YOUR #1 recommended camera on Amazon.
But then she realizes that she's gotta pick up her son from school.
In a rush, she bolts out the door, hops in the car, and drives off to pick up her son.
And then on top of that, life gets in the way. She cooks dinner, eats, spends time with the family, and then finally gets back to Amazon in the evening to buy the camera.
Since she's already shopping on Amazon, she also decides to purchase a new laptop.
Here's the awesome news…
Earlier, she clicked on YOUR affiliate link for the camera and a cookie was stored on her browser. And because Amazon has a 24-hour cookie expiration, you get commissions for both the camera and the laptop – even though you didn't promote the laptop.

Now imagine this…
What if you could refer a new customer to Amazon, and then get commissions for ALL purchases they ever make – forever?
And without any extra effort from your part?
Wouldn't that be awesome?
Sorry to burst your bubble, but with Amazon that's not possible. They only have that 24-hour cookie expiration.
But with the right affiliate program, there's something called Lifetime Commissions.
Lifetime Commissions links a customer to an affiliate, allowing the linked affiliate to receive a commission on all future purchases by the customer.

– MLSP
So as long as your new referred customers keep buying, you can get paid for months and years into the future. True passive income!
5 Things To Look For In An Affiliate Program
My good friend Dave Sharpe wrote in one of his books about the 5 things he suggests reviewing when you're looking to join an affiliate program and promote their products.
Let me share his insights with you:
✅ PRODUCT VALUE: Does the product have value and do people want to buy it?
If not, people are going to be underwhelmed and refund, and that's going to be a major drag if you do a bunch of sales and they all want refunds.
✅ MARGINS: Are there high enough profit-margins from a sale (or multiple sales from the same customer) that you can make significant income, without needing to sell hundreds or thousands of products each month? Or, do they at least have upsells that they offer customers that could increase your earnings?
You can't beat math. If there's not enough profit to cover the cost of your advertising and leave a profit at the end, you'll go broke faster than a kid in Chuck E. Cheese.
✅ TRACKING: Does the affiliate program have solid tracking links? This means once you refer a customer do you get paid from everything they ever buy [Lifetime Commissions], or just the first purchase?
Companies make lots of money from repeat customers buying products over and over again, and if you're the affiliate who referred them, you need to know whether you're going to get paid on all sales the customer purchases, or just on the initial sale.
✅ MARKETING MATERIAL: Is there high-converting marketing materials and sales funnels/websites for you to convert more sales? Are there up-sells? Do they have a sales team who calls the customers you refer, for YOU, to try and convert them into higher-priced products and services?
An affiliate program's marketing materials can be just as important for you to consider as the value of the product. Because if you don't convert sales, it doesn't matter how good the product is, it won't sell!
✅ INTEGRITY: Does the company have a good reputation? Treat people right and pay people on time? Integrity is everything.
Unfortunately, everyone doesn't have your best interests in mind, so you have to be very careful who you partner with and promote, because if you choose the wrong partner you could lose a lot of time and money you might not get back.
There you have it. Amazing advice from my buddy, Dave!
In fact, with all these elements in place, you can really focus on building an online business and feel safe…
…without the stress of creating your own products, building websites, recording sales videos, having a physical store, or hiring and managing staff.
How Much Money Can You Make With Affiliate Marketing?
The short answer is that there's no ceiling for the amount of money you can make with affiliate marketing.
But it also depends.
With Amazon's affiliate program, you're typically going to earn low ticket commissions of 1-5% of the total product sale.
Sure, you could make $50 to $200 per month in the next 1-2 years.
But that's not life changing, is it?
With high ticket affiliate marketing, I'm constantly seeing newbies create 6-figure incomes within a few short months, not years.
For example, in the #1 affiliate program I recommend, an ex-grocery clerk, Sarah, made US$100,000 in her first 3 months…and she got started with zero experience.
Now she's what we call a "Unicorn". She's a very rare thing to see. In fact, she's the fastest to get to $100K in the company.
But I've seen plenty others, like Ryan & Megan, a married couple who hit US$100,000 within 6 months into affiliate marketing.
And Spencer who makes 7-figures per year with his high ticket affiliate marketing business alone.
Now, this is not a guarantee of income. (See earnings disclaimer here.) Because like with any business, you need to be committed to learning new skills and putting in the work.
But if you are committed, these results are totally possible!
How To Get Started With Affiliate Marketing
There's 5 simple steps to get started with affiliate marketing for beginners.
Step #1) Choose Your Niche
The first step to making money with affiliate marketing for beginners, is to choose your niche…or the space you want to find products to sell and make money in.
Oftentimes, I've heard of people come up with new business ideas they believe are going to be successful because no one else is doing it.
This can't be further from the truth.
You see, countless people before you, even in the relative short time the internet has existed, have experimented with different niches and products…and they've figured out what works and what doesn't.
If a company doesn't have any direct competition, chances are it's not a good niche to make money in.
That's why the smartest thing you can do is…
To find products that people are already buying and get those products in front of those red hot buyers.
That's the secret to shortcutting your success.
And it's how to avoid one of the biggest pitfalls most beginners fall into.
You want to choose a niche that has been proven to work over and over again. And the more competition you see, the more money there is to make in that space.
Three of the most proven and highly profitable niches are…
Health, Wealth, and Relationships.
And there's tons of subcategories in each of these niches.
For example, have you ever seen or heard ads for…
Men's weight loss?
Women's weight loss?
Yoga, meditation?
Diabetes?
Hair loss treatment?
I bet you have!
Because these are all hot selling subcategories in the Health niche, where people spend billions of dollars each month alone.
Getting just a tiny piece of that pie for yourself would give you the financial freedom you've been searching for.
Personally, I love the Wealth niche…
Where I show people how to make money online or grow their existing business.
I love this niche because no matter what happens in the world, with the economy—recession or boom, there will always be people looking for ways to make more money, start a business and fire their boss.
In fact, the Wealth niche is one that never slows down, and in fact 'booms' when there is a recession… because people look for financial stability even more in uncertain times.
And it's also an industry I love because I get to help set families financially free!
If you're not sure what niche to choose, don't worry! I'll share how you can figure that out in a sec.
Step #2) Join an Affiliate Program
The next step to making money with affiliate marketing for beginners, is to join a great affiliate program.
Because what's the point of doing any marketing if you don't have a great product people can buy…so then YOU can make commissions and get paid!
We've already covered 'what' to look for in an affiliate program. Now let's cover 'how' to find one.
There are two ways to find an affiliate program:
OPTION 1) Market Products You Already Know And Love
This is an easy one because there's already products you use and love. And all you have to do is see if they have an affiliate program, sign up, and start promoting.
Typically, you'll want to promote products you've had a good experience with, got great results with, and that you'll feel good recommending.
If you've found a great course (online or offline), an event or mastermind, or a book that your readers could get results from, why not start spreading the word and sharing your results?
So first, make a list of products, services and courses you've previously bought. And figure out which one would be the most exciting to promote.
Second, do a quick Google search to see if the company has an affiliate program.
A search on Google is simple. Just type: "[product or company name] + "affiliate program", or email the company and ask.
Not all companies have an affiliate program, but you'll be surprised at how many do!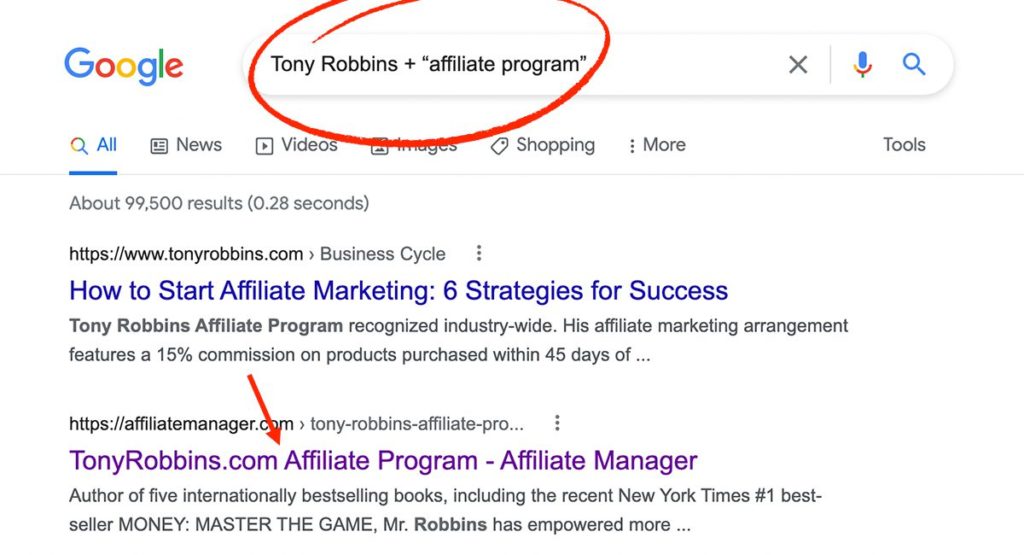 When looking for an affiliate program, remember my friend Dave's 5 Things to Look For In An Affiliate Program checklist I shared with you.
When you've found your first product, apply to become an affiliate and start promoting. (I'll share some marketing tips in a sec!)
For some, this might be enough to get started with affiliate marketing for beginners.
But for others, you might want to explore the next option if you don't have an existing product you love that has an affiliate program.
OPTION 2) Find Products Using An Affiliate Network
f you don't know of any products you can promote, a good option is searching for products on an affiliate network.
Affiliate networks are platforms that act as a middle man between marketers (the affiliate) and product creators (the merchant). They'll typically host dozens to hundreds of products in one or multiple niches that any affiliate can promote.
But a warning here: This approach will require you time and money invested into finding and purchasing multiple products to try them out to see what you feel confident about promoting.
That's mostly because there will be less knowledge or trust on your part. So you'll want to do some due diligence into what products to promote, so you can protect your reputation and credibility online.
Now and then, I find marketers who promote anything and everything that has an affiliate program, and it doesn't reflect well on them.
These types of marketers come across as desperate and spammy, promoting anything just to "make a buck", and without having the best interest of their customers in mind.
Also, when you use products from an affiliate network, you usually won't know ahead of time who the merchant is, you won't have a relationship with them, and you certainly won't know if they have integrity or not.
Some popular affiliate networks include: ClickBank, DigiStore24.com, CJ Affiliate, and the Amazon Associates program.
The Amazon program is a popular one. Though keep in mind that commissions are low and you don't get Lifetime Commissions from customers you refer.
If you want an affiliate program that ticks all the boxes, keep reading and I'll share my #1 recommendation soon.
Step #3) Get Your Affiliate Link
To join an affiliate network, you'll have to apply, be approved, and provide some basic business details so you can get paid.
The least details you'll need to provide are:
Your personal or business contact info for tax reporting.
Your bank account where your commissions will be paid to.
The merchant will also provide you with:
A personalized affiliate link. So when you promote a product, this trackable link will let the merchant know which commissions are owed to YOU.
You might also be provided with some tips and resources to promote the products.
These could include:
A summary of the affiliate program and commission structure.
Marketing materials like written ads, sales funnels, banners and graphics.
Email and website swipe copy.
On-going communication about new products and promotions.
If you use the Amazon affiliate program, you'll get your own unique links for every product you choose to promote.
And if building your own brand is important to you, a few affiliate programs will provide you simple website templates (aka affiliate marketing funnels) that brands YOU as the business, while promoting their products as an affiliate.
Step #4) Promote, Promote, Promote
Once you know your niche, have an affiliate program and product, the next step is to promote, promote, promote. And the best way to do that is with video or written content.
Technically, you can promote affiliate products on any platform, including Facebook, Instagram, TikTok, YouTube and a Blog.
In fact, I use all 5 of those platforms (you're on my blog right now 🙂 ) But for an affiliate marketing beginner, I recommend starting with only ONE platform until you're making money.
Once you're making money with one, you'll know how you did it. And then you can expand to other platforms and repeat the same process.
All platforms fall into three types of content… video, written or image.
For video, platforms include TikTok and YouTube.
For written, platforms include Blogging and Article Writing.
For video, written and image, platforms include Facebook, LinkedIn and Instagram. As you can do either or all three.
Personally, I recommend any of these for beginners except blogging and article writing. Only because these two require SEO (search engine optimization), which can get pretty technical.
SEO also requires writing blog content consistently for months before you start seeing any real results.
Social media is much faster in the short term. And my long term recommendation is YouTube, which also requires some basic SEO, but not as technical as with blogging and article writing.

So how does creating content work?
The goal is to create helpful video and written content, in the form of tips & tricks or ads, that serves an audience that could also be interested in the affiliate products you promote.
As you create content, that will attract more of the type of people that will be interested in your content and products.
For example, if you're in the health niche, you could create content with the following titles:
My Top 5 Tips for Stress-Free Eating
My 5 Life-Changing Tips To Reduce Sugar Cravings
4 Holistic Ways to Lose Weight Naturally
Top 10 Ways to Boost Your Energy
How to Use Essential Oils to Create a Healthy Lifestyle
See how those video ideas would attract people that are health-conscious?
And then, you can recommend health products in your videos, and send people to buy them by clicking on your affiliate link.
"But what if I don't have the knowledge?" you ask…
Most content creators don't have the knowledge on so many topics they make videos on or write about. Only a small percentage do.
Here's a secret they (and I) use often…
Research other people's content, take notes, and create your own content from that.
Easy!
You don't have to reinvent the wheel. You just model other people's content.
In fact, remember Sarah I told you about who made US$100,000 in her first 3 months in affiliate marketing as a beginner?
This is EXACTLY how she did it on TikTok!
She didn't wait until she 'knew' all the knowledge or felt confident as a marketer.
She just started duplicating other people's 15-second long TikTok videos in her own style, WHILE she learned about online & affiliate marketing.
Fast forward 2 years, and she's now making her own original style content. But duplicating other people's content is how she hit her first 6-figures fast!
Remember how in high school you'd get in trouble for copying other students' work?
Well, in online/digital marketing, you get rewarded financially for it 😉
As long as you're not outright downloading other marketers' videos and re-uploading them, or copying and pasting their written content, as your own. (Which I've seen some marketers do and get into legal trouble, btw!)
Here's how affiliate marketing works on Instagram…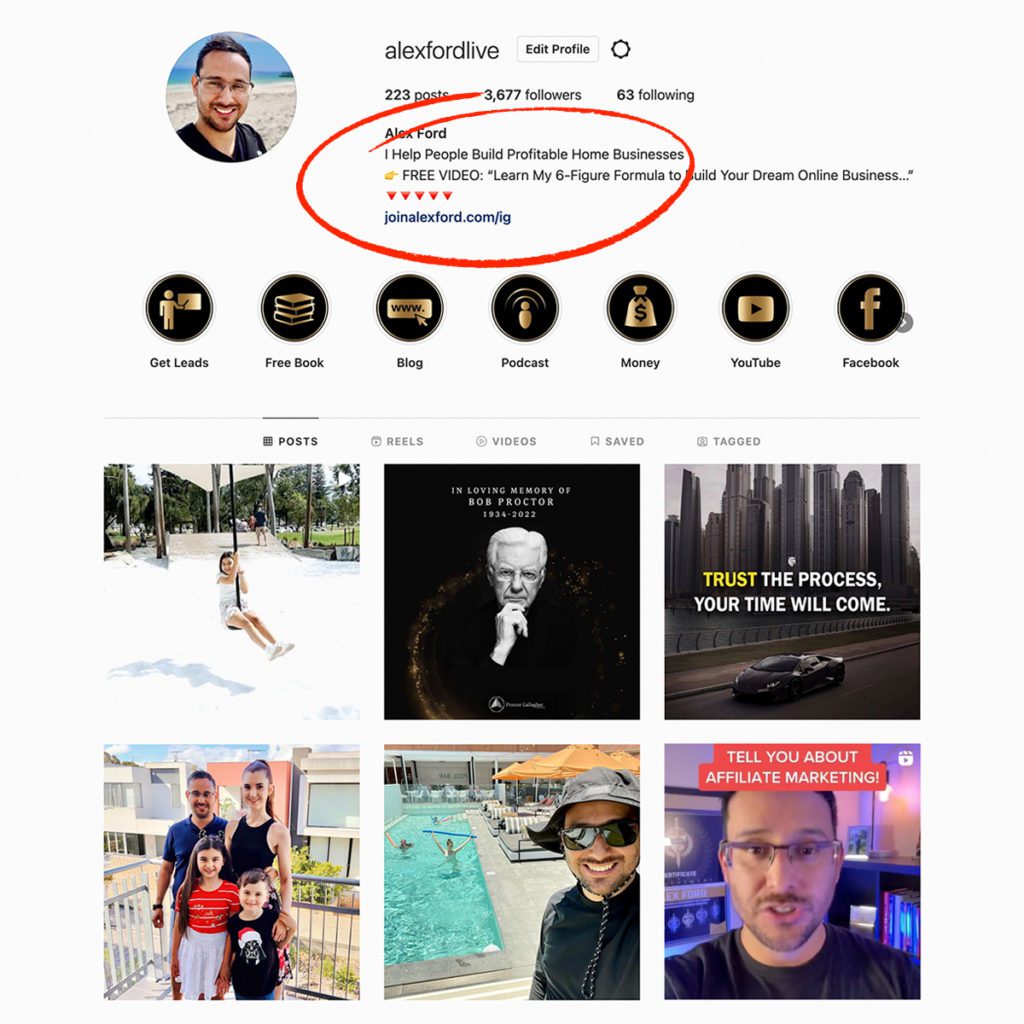 As you can see, I create video, image and written content on my Instagram profile.
And then, new and existing followers can click the affiliate link on my profile's bio to see and buy the product I promote.
In this case, my bio says:
"FREE BOOK: Learn My 6-Figure Formula to Build Your Dream Business…"
🔻🔻🔻🔻🔻
joinalexford.com/ig
When people click the link, they'll be able to opt in to learn about my 6-figure formula, and the product/business I recommend, so they too can achieve the same!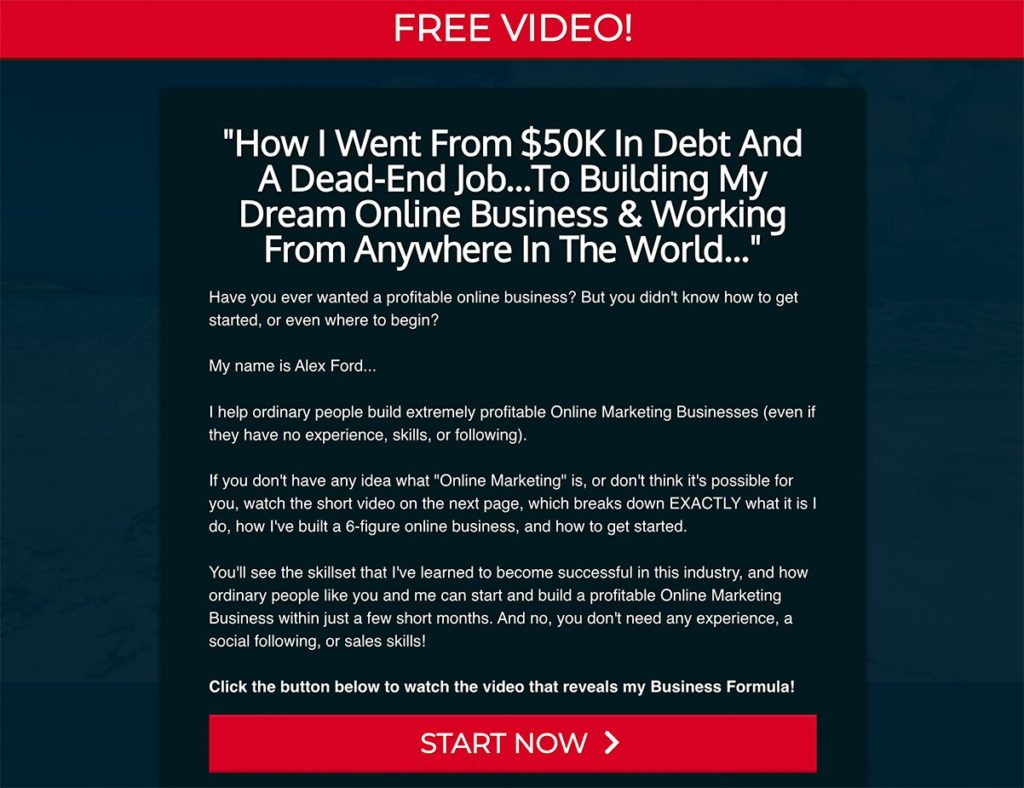 If they make the decision to buy, I earn a commission from that initial sale, plus any lifetime commissions from that customer.
Here's how affiliate marketing works on YouTube…
Let's say Johnny wants to buy a new camera for making YouTube videos, but he wants to research the best cameras first.
He goes to YouTube and types "Best video cameras for YouTube".
He then clicks on the second search result.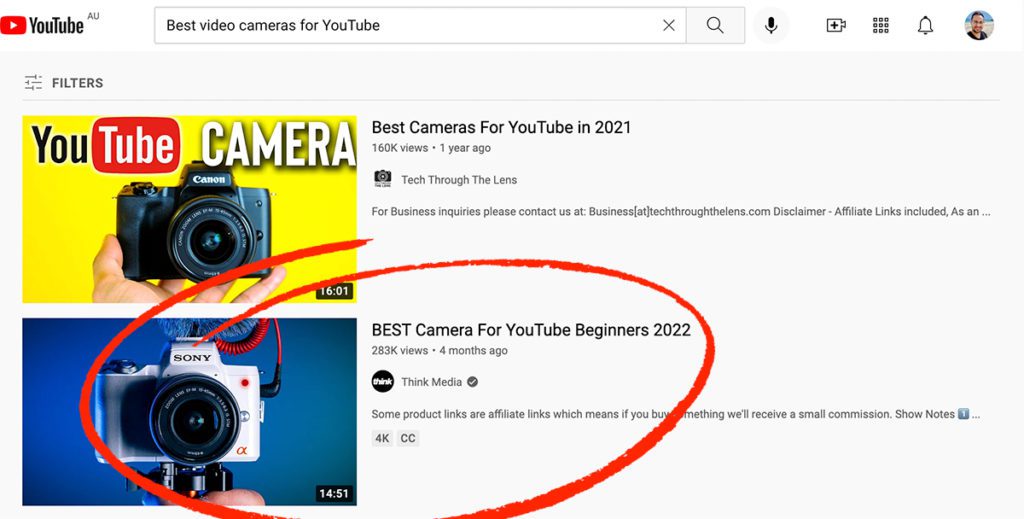 Johnny watches the video to learn what the best camera for YouTube is.
He learns that he can use his smart phone's camera to get started, but prefers the idea of buying a nicer camera, the Canon M50 Mark II, which is recommended on the video.
The video directs him to the link in the description.
He clicks on the link and is forwarded to the Canon M50 Mark II listing on the Amazon website.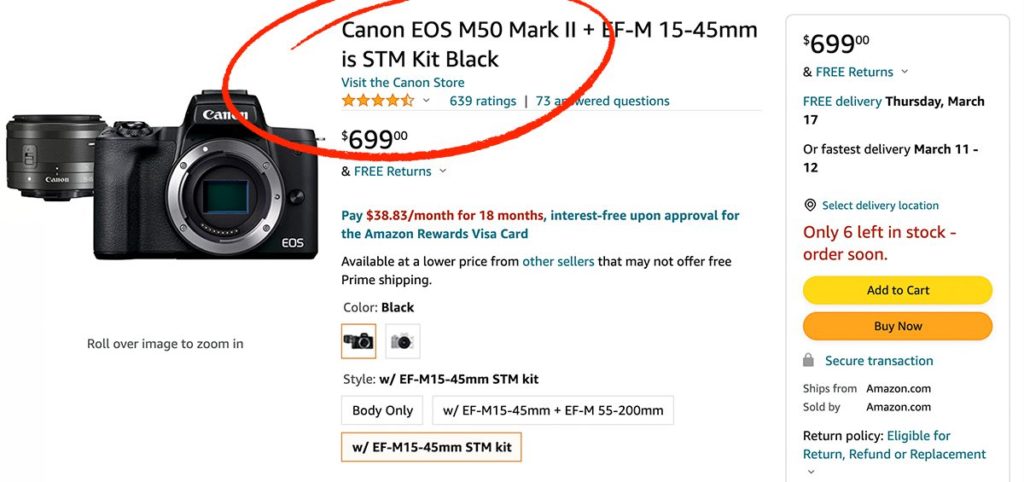 Johnny buys the camera, and the affiliate (ie. YOU) who made the review makes a commission.
Amazing huh!
And these are just two of many simple ways to make money online with affiliate marketing for beginners.
Step #5) Receive Commissions
This is the best part of affiliate marketing. Because who doesn't like when payday comes around!
Receiving commissions is very easy.
When you sign up for an affiliate program, you'll want to make sure you read their instructions on how you get paid. You'll have some simple set up to do.
Some companies pay via PayPal, so you'll want to add your PayPal email address to your profile in the affiliate program dashboard. You can then transfer money paid out from PayPal to your bank account.
Other companies pay via eWallet solutions, which are similar to PayPal but are specifically for paying money out to affiliates. You can transfer the money from your eWallet to your bank account.
Other companies will pay you directly into your bank account.
And trust me, it never gets old receiving commission emails like this one… 🙂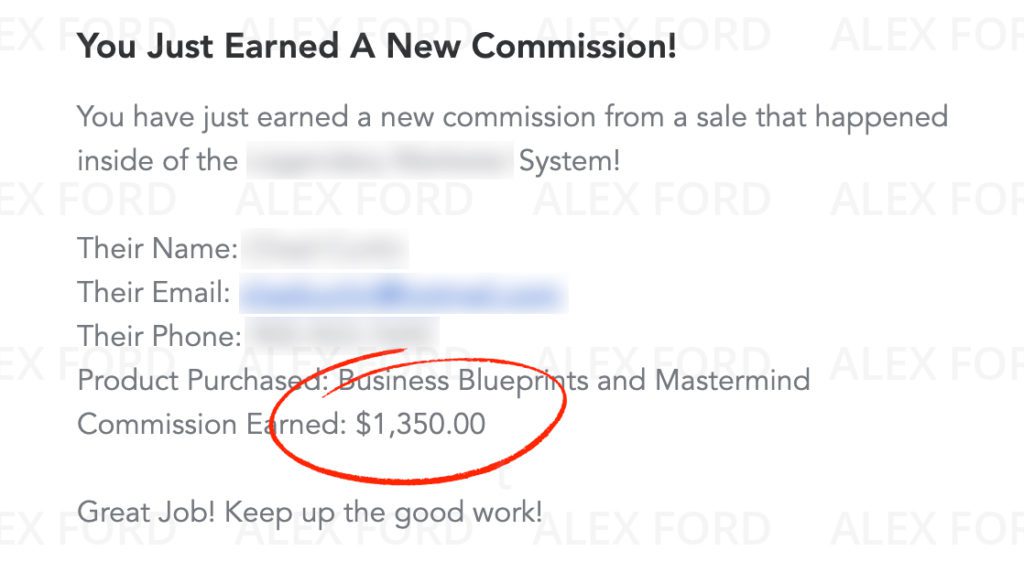 Affiliate Marketing Coaching & Support
Finally, when looking to get started in affiliate marketing for beginners, it's important to find an affiliate program that provides training, coaching and support.
Many affiliate programs will give you the products and some basic resources, but not extensive training on how to market those products.
A great company will provide…
Excellent in-depth, step-by-step education on the fundamentals such as:
How to get yourself set up
The best ways to market their products
Secrets to building your affiliate marketing business long-term
And more
They may also have on-going live group coaching, advisors, and 1-on-1 coaching.
Plus, the better ones will have community support and training.
For example, a Facebook group, Telegram group, live daily training, a podcast, and more.
Something to always remember is…
If you're taking action and keep getting stuck, it's probably because you need more education or support on the subject from a coach or community.
I can't stress enough the importance of education, coaching and support.
Like the late Jim Rohn said:
"Work harder on yourself than you do on your business. If you work hard on your business, you can make a living. If you work hard on yourself, you can make a fortune… Income seldom exceeds personal growth."
And continually increasing your marketing skill sets will directly increase your financial results!
Now, let's talk about the affiliate program I recommend to make money online (even if you have no experience)…
The #1 Affiliate Program I Recommend…
With my 10+ years experience in the industry, with tons of testing and trial and error…
I FINALLY found a company that TICKS EVERY BOX I've shared with you today.
This company's main focus is to help people who want to start their own online business get the education and mentorship they need to create success.
All by revealing the secrets to sourcing digital products online, and marketing them using free and/or paid advertising methods.
Plus, they include an affiliate program that can be used to earn high ticket commissions by promoting the company's own products.
This means you won't be stuck only promoting this company's products.
They'll show you how to be self-reliant and find other great products to promote online…so you never have to worry about making money again.
And you can do it all without recruiting anyone, making phone calls, creating products, carrying inventory, investing tens of thousands of dollars, or spending money on paid ads!
Want to learn more? Click the link below for a free training video that dives deeper into this concept, and how beginners can get started today.
Click HERE to Watch The Free Training Video Now!
If you have any questions, message me on Facebook.
Got value from this post? I'd LOVE if you would comment below and share on Facebook… Research has shown that as you share this post & comment below, the universe will bring amazing things to your life 😉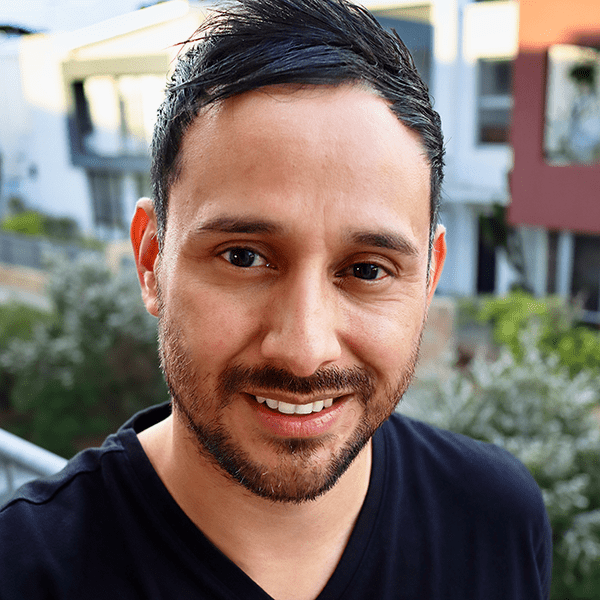 Alex Ford
Digital Marketing Trainer
Email: [email protected]
Have Questions? – Ask me on Messenger
P.S. Do You Have A Proven Step-By-Step Formula to Build A 6-Figure Affiliate Marketing Business? If Not, Check This Out (Unless You've Already Got Too Much Money) – Click Here For Instant Access!
If you enjoyed this Affiliate Marketing for Beginners post, feel free to share.